About Us


Terry Simmons of Winterset had a long battle with cancer, and she passed away in the fall of 2014. Terry had a rewarding career in nursing, spent much of her life teaching and caring for others, and was always particularly drawn to babies and children.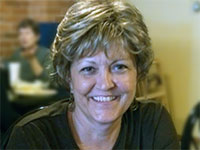 In the last couple years of her life after her cancer returned, she and her best friend Carol Winter spent a lot of time intentionally seeking activities that were positive, healthy, and fun. Some of them were a real challenge, such as the Fight For Air Climb (which they did twice) and the Red Flannel Run.
As you might expect if you knew Terry, her plans for learning to crochet also involved caring for others. She and Carol had talked about making hats for babies and kids, and donating them wherever there was a need.
Carol got started ahead of Terry in learning to crochet. Terry was going to take a lesson on Thursday, but she went into the hospital on Wednesday and died Friday."
So, just two days after Terry passed away, and with just a few crochet lessons under her own belt, Carol started Terry's Angels. She invited others to join in and help, in celebration of Terry's life.
In the first three months after the group was formed, approximately 30 members have given away over 200 items to Hope Ministries Women's Shelter, the WIC Clinic in Winterset, Operation Santa at Matura in Winterset, CRISP, and the Alabaster Ministries Christmas Store. Their goal this year is to give away 1,000 or more (they've now branched into blankets and scarves as well).
It's been a wonderful journey and had Terry seen the cuties from Ronald McDonald House last year, she would have gone right over sat down and picked them up showering them with smiles and kisses and hugs. She did that for all of us. We love her through our group Terry's Angels!
Organizations We Have Donated To
Hope Ministries
Ronald McDonald House
Broadlawns Pediatric Unit
Youth Emergency Services & Shelter
Mercy Pediatric Unit
Blank Pediatric Unit
Johnson County Crisis Center
University of Iowa Children's Hospital
Children's Cancer Connection
Iowa Make-A-Wish Foundation
Shriner's Children's Hospital
Matura Operation Santa Claus
Alabaster Christmas
American Heart Association
Women's Health Center
WIC Clinic
CRISP
Amanda The Panda
Gigi's Playhouse
Childserve